Hasegawa's tableware
and ceramist Kouichi Uchida
Hasegawa's Special Tableware
Kouichi Uchida is one of the most prominent contemporary ceramic artists.
His experience of creating pottery in various parts of the world makes his works very diverse and dignified in appearance, ranging from large vases to drinking cups.
In 2012, Mr. Uchida and Hasegawa, an ever-evolving restaurant company, cooperated to build a traditional Japanese Anagama kiln on the mountain of Kutsuki, Takashima City, Shiga Prefecture. Most plates and bowls used in our restaurant are created there.

Cooking and tableware are inseparable pairs.
Please enjoy the beautiful harmony between the dishes and the tableware.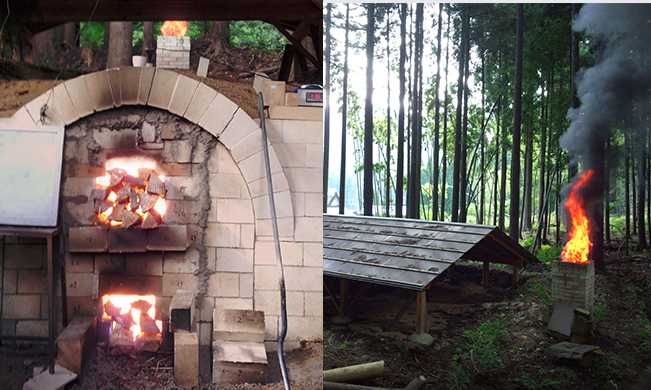 Profile - Kouichi Uchida
1969

Born in Nagoya City, Aichi Prefecture
1990

Completed Aichi Prefectural Seto Pottery Senior High School Ceramics Course
1992

Established an independent studio in Yokkaichi, Mie Prefecture
1993

Activities centered on solo exhibitions.
2012

Built an anagama kiln in Kutsuki, Shiga Prefecture
2015

Opened "BANKO archive design museum" in Yokkaichi, Mie Prefecture, a private museum dedicated to Banko ware.

Pictures of Koichi Uchida Pottery Exhibition held at Hasegawa.
Ahead of its opening, Hasegawa, a sushi restaurant in Shinsaibashi, Osaka, commissioned me to make their tableware, and I created them.
When I had a chance to visit the restaurant, I was surprised to see my plates and dishes. Since the restaurant has been so popular, I assumed they must have been damaged and become worn out.
However, I could see that they had been used and cared for with love by the restaurant staff. That made me incredibly happy.

Ceramist Kouichi Uchida